Thanksgiving 2021 is here. This is one of the most awaited holidays of the year for most of us in the US. It is the time to reconnect with your family and friends around the dinner table with the ravishing aroma of stuffed turkey, pumpkin pie, mashed potatoes, cranberry sauce, and other delicacies filling the air. It hasn't been exactly a good year for most of us, but it is the time to reflect on how grateful we must be as we are able to spend good times with our loved ones in person or virtually this year.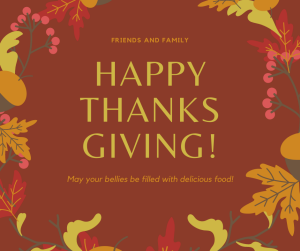 Going a step ahead we would like to take this opportunity to express our gratitude to everyone who has stood by us during these challenging times. From a humble beginning in 1995 to the year 2021, our journey was full of challenges, but it was your support that has helped us become one of the leading molding manufacturers in the world. Like any other business, the years 2020 and 2021 have been challenging for us. But we could easily navigate through these times by backing on the support and trust that our employees, clients, and well-wishers showered on us. Like any other year, our loyal clients have ordered from us this year too. They have also helped us find new business opportunities. As a result, we could keep our business going and are here finally to greet you during this holiday season.
Remember Thanksgiving is also the time to make a positive impact on the lives of people. This positive impact may mean sponsoring or gifting something or even small and kind gestures like giving a smile, calling a friend, and greeting people politely wherever you go. You never know all these acts of kindness that seem small can make a difference to someone who may be undergoing difficult times.
From all of us at Flextrim, we wish you all a blessed and Happy Thanksgiving 2021.